EASTMAN TRUCKING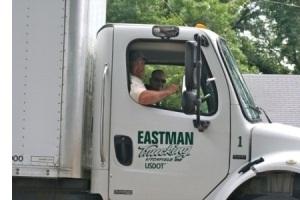 Same day short haul LTL shipping in and out of the greater Minneapolis, St. Paul and Twin Cities area.  Serving Litchfield (Meeker County), Hutchinson (McCloud County), Willmar (Kandiyohi County) and surrounding communities in west central Minnesota.  Residential delivery also available.
Call Eastman Trucking at 763.222.3013 for a shipping quote or to discuss recycled pallet options.
Kris Eastman - Company Owner and Driver
Local LTL Highway 12
Atwater, Cokato, Darwin, Dassel, Delano, Forest City, Grove City, Howard Lake, Kandiyohi, Kingston, Litchfield, Long Lake, Maple Plain, Montrose, Orono, Waverly, Willmar
Local LTL Highway 7
Blomkest, Cedar Mills, Cosmos, Corvuso, Hutchinson, Lake Lillian, Lester Prairie, Mayer, New Germany, Princeburg, Silver Lake, St. Bonifacious, Watertown, Winsted
Local LTL Highway 55
Annadale, Buffalo, Eden Valley, Fair Haven, Greenfield, Kimball, Maple Lake, Manannah, New London, Paynesville, Rockford, Spicer, South Haven, Watkins
Pallet Recycling and Boxes
Pallets - We are always looking for opportunities to pick up used pallets.  We then recycle those pallets and offer them for sale typically reserved for our shipping customers.  #1 & #2 40x48 Standard Pallets in stock.  Call for availability and pricing.
Boxes - Call us for availability of used Gaylord boxes for purchase.
Wanted - Used Pallets
We are currently looking for companies that have used pallets they no longer want or need.  We pick up pallets at your place of business and recycle them into usable pallets for other customers.  Keep your place of business less cluttered.
Call us for more information.
Used 55 Gallon Barrels
We are now offering two styles of used 55 gallon barrels for sale with delivery to your business.  Product used in all barrels was non-hazmat material.  These are slightly used clean 55 gallon steel drums.  It is our intent to provide an ongoing supply of these drums to our customers.